Description
Paws-itively Puppies Password Book: The Secret Personal Internet Address & Password Logbook for Puppy & Dog Lovers | 6×9 Inches Collie Edition Paperback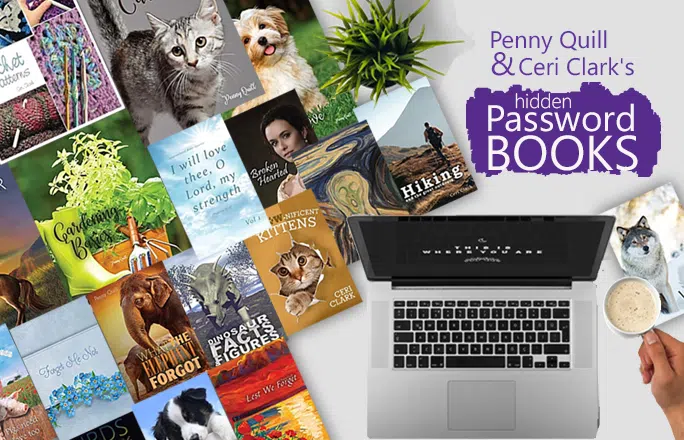 Protect your usernames and passwords with this disguised, discreet, 
secret,
 password journal and address book combo!
Forget your passwords? Tired of sticky notes? Losing track of passwords and contact details again? Would you like to find a better way?
Paws-itively Puppies is a secret password book disguised as a puppy or dog photo book. It holds all your website information and your friend's and family's contact information so you can easily access it.
This cleverly designed password keeper and address book is disguised as a dog photo book. It looks like any other book on your shelf, so opportunist thieves won't know what it is at a glance. It is 6 x 9 inches so will fit in pockets and purses.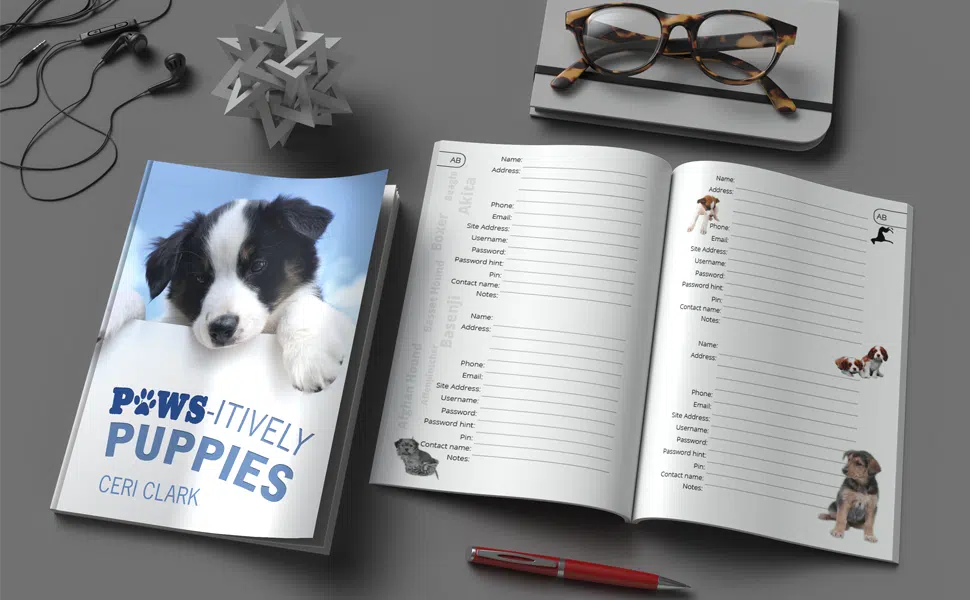 What you can expect from this internet password organizer (puppies password book):
Tabbed effect alphabetical pages to find your addresses or passwords quicker
Are you looking for a password book with tabs? Paws-itively Puppies is a password and address journal with printed alphabetical tabs running down the edge of the pages. These are printed in the margins so won't tear off with use. Flick the pages to find your passwords quickly and easily. As a bonus, there is the silhouette of a greyhound running and hiding down the side of the right-hand page when you flip the pages.
This puppies password book has a disguised cover to hide your personal information (helps keep your passwords safe)
There are several password logbooks on the market but this one was created so it could be hidden in plain sight. It looks like a book about puppies from the outside but inside there are 2 boxes for your login and address information on each page. Unlike other password books there are pictures of cute puppies of different breeds hiding on the pages to cheer you up on rainy days.
Section on creating secure passwords
There are risks to however a password is stored. These can be from online thieves or opportunist burglars. At the front of the book is a section on creating a password for each website that is easy for you to remember, but hard for anyone else to guess – even if they have this book!
Notes and other pages to add other useful information like software licenses
There is a section at the back to add information that won't fit in the usual password boxes. There are notes pages but also places to add home network settings and license information. If you have a friend coming around who wants to use the Wi-Fi, just add it in here and you will find it easily when you need it.
More space to write in your information
This handy-sized password keeper is 6 inches wide by 9 inches high but unlike some other password books it has 2 boxes per page for more space to write in your login information. There are 2 boxes per page which include spaces for addresses as well as website information. No need to have an address book and a password keeper with this book!
If you are looking for a puppies password book that is a bit different, look no further. Write down your addresses phone numbers, usernames and passwords with more peace of mind with the added security advice.
This is a puppies password book and address book with plenty of space to write in and you love dogs and puppies, get this today!